DBT Wellcome India Alliance funds national study on endometriosis in India
The DBT Wellcome India Alliance is supporting a major national research project 'Endometriosis Clinical and Genetic Research in India (ECGRI)' that aims to broaden our understanding of the clinical phenotypes and genetic risks associated with endometriosis.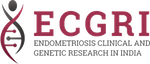 Dr Rahul Gajbhiye, Clinician-Scientist at ICMR-National Institute for Research in Reproductive Health (NIRRH) in Mumbai, India, has been awarded a DBT Wellcome India Alliance Clinical and Public Health Intermediate Fellowship Grant of ₹ 3,65,90,400.00 for the five-year ECGRI project, which focuses mainly on understanding the clinical phenotypes and genetic risks associated with endometriosis in Indian women.
Dr Rahul Gajbhiye (ICMR-NIRRH) is the Principal Investigator of ECGRI, Dr Smita Mahale, (Former Director ICMR-NIRRH) is the supervisor, Professor Grant Montgomery (Institute for Molecular Biosciences, The University of Queensland, Australia) is a mentor, Professor Gita Mishra (School of Public Health, The University of Queensland) as well as Professor Rajesh Dikshit (Center for Cancer Epidemiology, Tata Memorial Center, Mumbai, India) are collaborators, along with another 17 collaborators (gynaecological endoscopic surgeons) across India*
Major challenges in endometriosis
Poor understanding on the aetiology and pathogenesis
Limited information on incidence of endometriosis subtypes and risks factors
Causal genes and their pathways leading to endometriosis are unknown
Association of the GWAS-identified SNPs with endometriosis risk in the Indian population is not investigated
Large socio-economic burden
Limited healthcare access and expertise in LMICs and low resource settings
No cure
The ECGRI project sets out to address these challenges by examining epidemiological, clinical, environmental, life style, and genetic risk factors in women with and without endometriosis. 
ECGRI: Improving understanding of endometriosis and spreading awareness
The ECGRI project will build bridges across disciplines to discover and replicate genetic risk loci for endometriosis subtypes and help in understanding pathogenesis of endometriosis and its subtypes.
ECGRI will also help in educating and raising awareness about the disease in India
The Principal Investigator of ECGRI, Dr Rahul Gajbhiye, explains:
Our group has been actively involved with the World Endometriosis Research Foundation's (WERF) Endometriosis Phenome and Biobanking Harmonisation Project (EPHect) for implementing the WERF-EPHect research instruments in different clinical settings in India.

Standardised questionnaires and samples will be collected prospectively according to the WERF-EPHect standards. The clinical, epidemiological, environmental and life style risk factors in women with endometriosis will be investigated from the data generated through the use of these research instruments.

Further GWAS analysis will be carried out to investigate the genetic risk factors in women with endometriosis. The collected data and samples will be analysed and compared between women with endometriosis and hospital controls recruited from east, north east, north, west, central and south zones of India.

This will be the first evidence on endometriosis clinical phenotypes and risk factors from India and other low middle income countries (LMICs). Additionally, this will be the first GWAS on endometriosis from India and other LMICs on endometriosis.

We hope that these results of ECGRI study will be useful for risk prediction for endometriosis utilising the disease phenotype and genotype data.  The study will lead to the establishment of a National Clinical, Genomic Endometriosis Database and Bio-repository that will act as a national resource for new discoveries in endometriosis research.

We do not want women to suffer in silence!
⃰ ECGRI Collaborators
Dr Pramathes DasMahapatra, Spectrum Clinic and Endoscopy Research Institute, Kolkata, West Bengal, India
Dr Pranay Phukan, Assam Medical College, Dibrugarh, Assam, India
Dr. Shashank Shekhar, All India Institute of Medical Sciences, Jodhpur, Rajasthan, India
Dr Muralidhar V Pai, Kasturba Medical College, Manipal Academy of Higher Education
Manipal, Karnataka, India
Dr Bimal John, Credence Hospital, Thiruvanatanthapuram,  Kerala, India
Dr. Uma Singh, King George's Medical University, Lucknow, Uttar Pradesh, India
Dr Aarti Srivastava, King George's Medical University, Lucknow, Uttar Pradesh, India
Dr. Sunita Chandra, Morpheus Lucknow Fertility Clinic, Lucknow, Uttar Pradesh, India
Dr. Neeta Warty, Sanjeevani Diagnostic Centre, Kandivali and Surya Hospitals, Mumbai India
Dr. Nagendra Sardeshpande, Worli Hospital for Women, Mumbai, India
Dr. Kedar Padte, Dr Kedar's maternity, infertility, Endoscopy center, Panji, Goa, India
Dr. Ketki Kulkarni, Nowrosjee Wadia Maternity Hospital, Mumbai, India
Dr. Milind Shah, Naval Maternity Endoscopy & Infertility Center, Mumbai & Solapur,  India
Dr Anil Humane, Government Medical College, Nagpur, Maharashtra, India
Dr. Chaitanya Shembekar, Omega Hospital, Nagpur, Maharashtra, India
Dr. Nilaj Bagde, All India Institute of Medical Sciences, Raipur, Chhattisgarh, India
Dr. Swati Mahobia, Sai Baba Nursing Home, Raipur, Chhattisgarh, India
Funding

This project has received funding from The DBT Wellcome India Alliance (IA/CPHI/18/1/503933)
See also