Endometriosis awareness 2019
Endometriosis Awareness takes place across the globe during the month of March (and beyond) with a mission to raise awareness of a disease which affects an estimated 176 million women worldwide.

Endometriosis can have a devastating effect on quality of life due to its very painful symptoms; it is the biggest cause of infertility in women, and carries a huge personal and societal cost!
We raise awareness of a disease that affects women – and their families – in their most (re)productive years!

Cyprus
23 March 2019 at 09.00: Run for endometriosis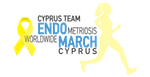 The Cyprus Team will be running / marching for endometriosis in Limassol. Join their efforts to raise awareness of endometriosis in Cyprus!
→ More information
France
1 – 30 March 2019: Information meetings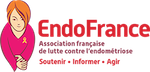 EndoFrance will hold informative meetings and events about endometriosis throughout France throughout the month of March.
→ Full schedule of events
1 – 30 March 2019: Conferences and EndoMarch France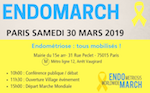 EndoMind will hold conferences in several cities in France, open days in hospitals, health village in the city of Paris, release of the movie "you my endo", and host EndoMarch France on 30 March starting at 31 Rue Peclet in Paris.
→ More information
Germany
29 – 31 March 2019: Endometriosis Conference in Ratzeburg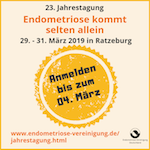 Endometriose-Vereinigung Deutschland will hold their annual conference for the 23rd time.This year's focus is on side effects and comorbidities of endometriosis. There'll be a lecture on autoimmune diseases and workshops on fibromyalgia and psychological side effects of endometriosis, among other subjects. In addition, you will get to know the physiotherapy and rehabilitation offerings.
Romania
14 March 2019 at 19.00 – 20.30: Endo What?

Screening of the movie Endo What? + conversation is organised by Asociatia SOS Endometrioza in Bucharest.
→ More information
New Zealand
8 March 2019: Endometriosis Awareness Mufti Day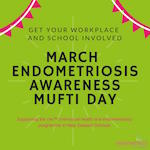 Endometriosis New Zealand invites everyone to get their workplace and/or school involved in their awareness and fundraising "mufti day" (casual clothes). A designated person at the workplace or school would collect money from participants to donate to ENZ. Participants would be encouraged to show support by wearing pink or green at work or school (ENZ colours) on the day.
→ Get involved
9 – 10 March 2019: Host a high tea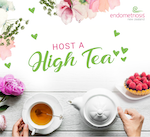 Join others across New Zealand by catching up with whānau, friends, and colleagues celebrating and raising money for Endometriosis New Zealand (ENZ). Support the work ENZ does every day by hosting your very own High Tea. Money raised will help educate youth across New Zealand through the ENZ secondary schools me™ (menstrual health and endometriosis) programme.
→ More information
Norway
8 March 2019 at 18.00: Endometriosis procession

Endometrioseforeningen invites everyone to join them on international women's day and march for endometriosis. Meet at Yongstorget 6 in Oslo.  → More information 
Spain
30 March at 10.30: EndoMarch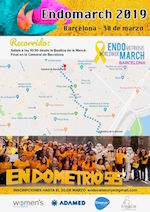 Endometriosis Catalunya invites you to particpate in the EndoMarch starting at Mercè church in Barcelona and finishing at Cathedral Square. 
At 11.00 there will be an Endo-Speech, followed by a flashmob at 11.15.
Then there will be a conference at 12.00 – 13.45 by different endometriosis experts for which you need to register.
→ registration and more information
Trinidad and Tobago
24 March 2019 at 09.00 – 15.00: Nurses seminar on endometriosis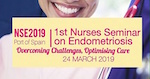 The TTEA, in partnership with NALIS, is ecstatic to invite nurses to this new dawn in endometriosis patient care management in T&T in Port of Spain, Trinidad. 
Themed 'Overcoming Challenges, Optimising Care,' this pioneering seminar will expose local nurses to aspects of 21st century endometriosis patient care management. It will feature a number of presenters from an array of interrelated patient care management fields.  This event will be held under the patronage of Former First Lady Mrs Zalayhar Hassanali.
30 March 2019 at 13.00 – 17.00: Endometriosis walk and women's health fair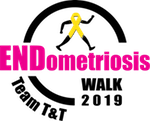 Short Description: The TTEA cordially invites you to its 1st ENDometriosis Walk and 2nd Women's Health Fair themed Endometriosis:  Many reasons, One walk, One cause, as we join other entities around the world to shed light on this life interfering disease, endometriosis. The walk takes place in Queen's Park Savannah, Port of Spain, Trinidad.
Starting Times: Health Fair 13.00 | Warm up 15.30pm | Walk 16.00 → More information
United Kingdom
23 March 2019 at 12.00-15.00: Worldwide EndoMarch in London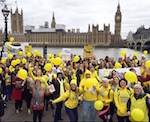 Endometriosis UK is organising the 6th Worldwide EndoMarch in London. Join us for this volunteer led awareness march through Central London and lets make some noise and get our voices heard!
30 March 2019 at 13.00-17.00: Worldwide EndoMarch in Cardiff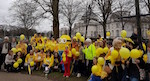 We will be marching through the streets of Cardiff with the hope of promoting awareness for ENDOMETRIOSIS, and the need for faster diagnosis, greater education, and more funds for research into better treatments and an eventual cure.
→ More information
USA
3 March 2019 at 08.30-17.00: The Endometriosis Summit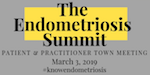 The Endometriosis Summit – a patient and practitioner town meeting – takes place in Hoboken, New Jersey, and features Heather Guidone, Sallie Sarrel, Dr Andrea Vidali, and many other endometriosis advocates.
→ More information
30 March 2019: EndoMarch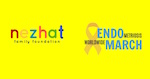 There will be awareness marches, organised by the Nezhat Foundation, for endometriosis held in numerous cities across the USA.
→ More information and schedule of events
Global awareness
Inspiration from previous awareness events
→ Endometriosis Awareness Events in 2018
→ Endometriosis Awareness Events in 2017
→ Endometriosis Awareness Events in 2016
→ Endometriosis Awareness Events in 2015
→ Endometriosis Awareness Events in 2014
→ Endometriosis Awareness Events in 2013
→ Endometriosis Awareness Events in 2012
→ Endometriosis Awareness Events in 2011
See also
→ National endometriosis organisations
→ Facts about endometriosis
→ Myths and misinformation about endometriosis