Endometriosis awareness 2018
Endometriosis Awareness takes place across the globe during the month of March (and beyond) with a mission to raise awareness of a disease which affects an estimated 176 million women worldwide.

Endometriosis can have a devastating effect on quality of life due to its very painful symptoms; it is the biggest cause of infertility in women, and carries a huge personal and societal cost!
We raise awareness of a disease that affects women – and their families – in their most (re)productive years!

Australia
9 March 2018: March into yellow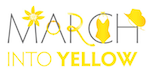 Join in the yellow movement and start a conversation about endometriosis – challenge yourself to incorporate yellow into your daily wardrobe throughout March. Get your workplace involved and have a yellow mufti day on Friday 9 March 2018.
24 March 2018 at 13.00-16.00: High teas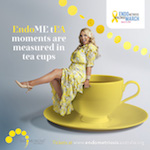 High teas (including a glass of sparkle, and special guest speakers on women's health and advocacy), will take place in Adelaide, Brisbane, Canberra, Hobart, Melbourne, Perth, Sydney, and Wollongong. These events are about creating awareness and to raise funds for research and education.
Throughout the month of March: Home high teas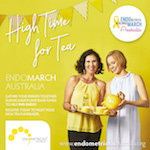 High Time for Tea: Gather your friends together during March and raise funds to help END ENDO.
Austria
15 March 2018 at 17.00 – 19.00: Endometriosis Info Café

"Endometriosis Info Café" is held by the Austrian Endometriosis Association for women with endometriosis at Martha-Frühwirt-Zentrum, Obere Augartenstraße 26-28, 1020 Wien.

→ Please register
France
3 – 30 March 2018: Information meetings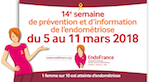 EndoFrance will hold informative meetings and events about endometriosis throughout France throughout March.
Germany
16-18 March 2018: Conference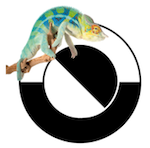 The 2018 annual conference of the Endometriosis Society Germany will be held in the Reha-Klinik in Bad Waldsee and focus on self-help and possibilities to positively influence endometriosis. Talks, workshops, and movement exercises are all part of the programme.
→ More information and registration
24
 March 2018 at 14.00-17.00: EndoMarch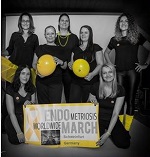 There will be an "Endo What?" movie screening and discussion with Dr Sebastian Häusler at  Friedrich-Rückert-Bau, Martin-Luther-Platz 20, 97421 Schweinfurt.
Free admission!
Italy
10 March 2018 at 9.00-16.00: National conference on endometriosis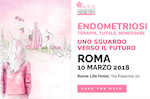 The 4th A.P.E. Onlus national conference on endometriosis will take place at the Rome Life Hotel in Rome.  This event is planned as well to improve awareness and take a look towards the future in the variety of treatments for endometriosis, pain, lifestyle and women rights:
New Zealand
Throughout March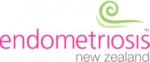 Help us start conversations, break the silence and make Endometriosis a household name by joining our Social Media Campaign. Get involved through liking, commenting and sharing our posts.  We are also launching our newly designed website with an exciting new feature… Story Forum! In Story Forum, you can connect with others going through similar experiences and talk openly about the impact endometriosis and pelvic pain can have on your life.
→ Check out our new website design and tell your story
The Netherlands
10 March 2018 at 10.00 – 17.00: Endometriosis information day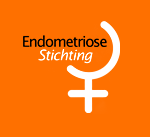 A full day of informative lectures about endometriosis at Rijnstate Ziekenhuis, and an opportunity to meet other women with endometriosis.
→ More information and registration
Norway
10 March 2018 at 12.00 – 15.00: Seminar on healthy eating

Seminar with Dian Shepperson Mills addressing The Medicine is on the table: How your food choice can affect pain and fertility at Scandic Hotel, Oslo. This will include:
How to reduce the pain and inflammation

Sub-fertility and how to improve endometrium and egg quality

How crucial the microbiome is in its role of breaking down oestrogen and excreting it from the body

What to eat, what to avoid/reduce, plus which supplements may be helpful.
→ More information and how to book a place
Romania
23 February 2018 at 19.00-22.00

A fundraising event in Bucharest for women with severe endometriosis.
9 March 2018 at 19.00-22.00

A seminar in Bucharest on the sufferings and infertility caused by endometriosis, 2 doctors will speak about these subjects.

30 March 2018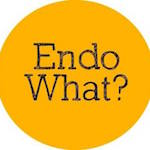 The second public screening in Romania, this time in Bucharest, of the documentary movie, "EndoWhat?",  produced by Shannon Cohn.
Spain
24 March 2018 at 10.30-14.00: EndoMarch and scientific programme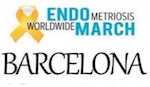 Endometriosis Catalunya (EndoCat) has again organised an EndoMarch starting at the Bacilica de la Merce in Barcelona. This is followed by a general meeting with speakers including Francesco Carmona, Meritxell Gracia, Mariona Rius, Pere Barri, and Lara Quintas.
→ More information and registration
USA
18 March 2018 at 08.00-16.00: Living your best life with endometriosis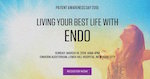 The 8th Annual Patient Awareness Day takes place at the Einhorn Auditorium inside Lenox Hill Hospital in NYC! It is a free event that is open to the public. We hope to provide tools to discover what works best for each individual – a day jam-packed with presentations from medical experts, community advocates, patients, etc.  → More information
19 March 2018 at 18.30-23.00: 9th Blossom Ball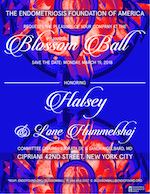 Our 9th Annual Blossom Ball is bound to be a feast for the senses. The glamorous Cipriani 42nd Street in New York City will be in full bloom for the black-tie affair. Our honourable guests from the medical, research, charity and entertainment worlds will mix and mingle as we recognise our two honorees, singer Halsey and endometriosis activist and researcher Lone Hummelshøj. The Blossom Ball will be informative, educational and fun—a cocktail hour will be followed by a multi-course sit-down dinner with a lively afterparty to follow. We look forward to seeing you there! → More information and tickets
24 March 2018: EndoMarch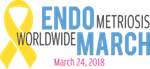 There will be awareness marches for endometriosis held in Atlanta, Boston, Columbus, New York, San Francisco, and Washington DC.
→ More information and schedule of events
25 March 2018 at 14.00-15.30: Tea and talk about all thing endo
Tea and Talk takes place at Cleve Coffee Garden, 5007 W Pico Blvd, Los Angeles, CA90019.
There will be endo friendly treats, the opportunity to win a gift basket, and special guests from the @theendo.co. $5.00
Global awareness
Inspiration from previous awareness events
→ Endometriosis Awareness Events in 2017
→ Endometriosis Awareness Events in 2016
→ Endometriosis Awareness Events in 2015
→ Endometriosis Awareness Events in 2014
→ Endometriosis Awareness Events in 2013
→ Endometriosis Awareness Events in 2012
→ Endometriosis Awareness Events in 2011