Recognising endometriosis advocates: Deborah Bush
Deborah Bush is well-known for having developed the unique and effective "menstrual health and endometriosis" ("me") secondary school education programme, and is the co-founder and CEO of Endometriosis New Zealand.

Deborah qualified as a school teacher from Victoria University, Wellington, New Zealand, and taught 11-15 year old students over her 20 year career.
As a teacher she had a special interest in innovative programme development, holistic learning, and teaching disengaged students, and has her Letters and teaching qualifications in dance and speech/drama.
Getting involved in endometriosis
A diagnosis of endometriosis in the mid-1980s became the catalyst which triggered Deborah's interest and advocacy in women's health generally, specifically endometriosis and now also pelvic pain. Based on her passion and commitment to make a difference and influence change, she has used her talents and skills to forge a unique career.
Making a difference for women with endometriosis
Deborah co-founded Endometriosis New Zealand (ENZ) with Margaret McKenzie and the late Joan Moultrie in 1985 – an organisation representing all stakeholders in endometriosis including government and health decision makers, corporates, funders, communities and, of course, women and girls with endometriosis and their families.
As well as remaining true to its purpose and core values, ENZ is committed to sound business practice, audit and quality control, which has contributed to the organisation's longevity, credibility, and respect.

Perhaps Deborah's most outstanding success began in 1997 when she developed the world's first Menstrual Health and Endometriosis ('me') education programme for secondary schools.
The 'me' programme is a well-health professional education programme specifically developed to integrate into the secondary school curriculum and is based on recommended educational principles and practices.
'me' aims to improve awareness about normal menstruation, endometriosis, and improve health seeking behaviours to encourage earlier presentation of symptoms and timely intervention for girls and young women who have symptoms suggestive of endometriosis.  'me' has now reached hundreds of thousands of students with evaluation and audit showing an overwhelming increase in girls and young women seeking help when menstrual symptoms interfere in their lives.
Deborah has also developed other innovative educational programmes for workplaces, hospitals, communities, and is fully engaged in CME education.

Her love of dance, fun, and entrepreneurship saw her develop DANCE FOR ME in 2014, an initiative based on the principle that exercise is the best non-drug treatment for pain.
DANCE FOR ME has now been endorsed by the New Zealand Royal Ballet and leapt into a 2014 national campaign designed for women with endometriosis and pelvic pain.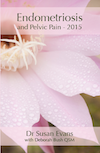 Deborah has contributed to the literature through reports, articles, chapters in books, and writes ENZ resources. She is the co-author of Endometriosis and Pelvic Pain with Dr Susan Evans, which is described as 'the most easy to read and practical guide for women with endometriosis'.
In 2001, she developed EPP COACHING AND CONSULTING™ (Endometriosis and Pelvic Pain), her own private practice which integrates into treatment centres offering multi-disciplinary expertise. Her clinics concentrate on well-health coaching and education.
She is a sincere, inspirational patient advocate and tireless worker.  Her influence is probably best summed up by the 2012 Woman of the Year Award judges who said:
Deborah is a pioneer, a visionary, a highly effective entrepreneurial lay person in a specialised medical world bringing relief from disability and pain to thousands of women. 
Deborah's major achievements in moving the field of endometriosis forward
Deborah's achievements are reflected in the following awards and recognitions:
Where is Deborah Bush now?
Deborah is the chief executive of Endometriosis New Zealand, and is working with government to invest in endometriosis. She sits on the newly formed Task Force with health officials, medical colleges and others to improve outcomes for girls and women with endometriosis whilst addressing the burdens the condition has on individuals, society and New Zealand's health spend.
Deborah is committed to ensure that her national and global influences will continue to effect change and improve health outcomes for future generations of women.
I see myself as a role model and positive advocate for women's health and I am well equipped to continue championing the cause to ensure 176+ million women with endometriosis are not compromised because of gender, culture, age, or social position.

As a pioneer in the field, it is vital we pass on our expertise and knowledge so that the next generation can continue to champion the cause by carrying the baton and driving the crusade forward. There is no need to reinvent the wheel.
said, Deborah.
Deborah sees progress in the field of endometriosis as multi-faceted: integrating the various disciplines and engaging all stakeholders – which is common practice to her general approach to life and work.
She believes her future lies in professional speaking, mentoring, writing, fostering research, and continuing to work with national and international health decision makers whilst promoting her preventive and promotional well-health models to schools, hospitals, workplaces, communities, and individuals.
See also