Heather Guidone honoured by National Women's Health Foundation
7 June 2012
Endometriosis.org congratulates Heather Guidone, who was honored for her work in endometriosis at the National Women's Health Foundation's annual red carpet "Below the Belt" affair today in Chicago, USA. The gala is the Foundation's annual signature event.
In her acceptance remarks, Guidone stressed the critical importance of and dire need for increased research, awareness and support of women and girls with endometriosis, telling the sold-out audience:
Despite 176 million women and girls suffering in silence from this insidious disease, endometriosis remains the red-headed stepchild of gynaecology. The time to realise the unfathomable impact of this disease across our entire society on a personal and financial level is NOW.
Heather accepted the honour on behalf of all those struggling with the disease and took the opportunity to gratefully acknowledge several endometriosis pioneers; her loved ones, mentors, teachers and colleagues who have helped shape her life both personally and professionally and empowered her in her own struggles, including the staff and founders of the Center for Endometriosis Care and the Endometriosis Research Center, Michelle Marvel, Kimberly Latona, Denise Kubanovich, Keara Newton, Lone Hummelshoj, Mary Prenger, Sue Kerivan, Jennifer Cox, Dr Harry Reich, Dr David Redwine, Dr Camran Nezhat, Dr Farr Nezhat, Dr Ceana Nezhat, Dr Linda Griffith, Dr John Dulemba, Dr Iris Orbuch, Dr Maurice Chung, Dr Charles Koh, Dr Jhumka Gupta, Dr Sallie Sarrel, Michele Alexander, Nurse Belle Browne, Dr Cindy Mosbrucker, Deborah Bush, DrAsgi Fazleabas, Nurse Mariann Sicina, Dr Jennifer Ritchie-Goodline, and others including her family, especially her parents.
She gave special acknowledgements to Nancy Petersen RN, Donna Laux, Wendy Winer RN, BSN, CNOR, RNFA, Dr Ken Sinervo, and particularly Dr Robert Albee for their life-changing impact not only on her own life, but on the lives of so many others around the world with endometriosis, thanking them for "giving me back my life and letting me give hope to others every day in return".
Fighting below the belt for pelvic health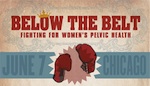 Aptly enough, the award is a custom-designed boxing glove in keeping with the "Fighting Below the Belt for Pelvic Health" theme and denoting her lifelong fight to improve the state of affairs in endometriosis since she began her efforts in early 1989 following her own diagnosis with stage 4 endometriosis.
The annual "Below the Belt" affair, now in its 5th year, brings together USA's most passionate champions of women's pelvic health and helps further NWHF's mission to provide life-enhancing strategies for every woman. Founded in 2004 by CEO & Executive Director Missy Lavender, the Foundation brings sensitive and stigmatised women's pelvic health issues out of hiding and into the light. Guided by the mission "to improve the pelvic health and wellness of all women and girls," the Foundation continually strives to empower women with knowledge and in turn, to take control of their bodies across the global platform of women's health.
Acknowledgment
* Photo by Jamie Kraus ©Time Out Chicago Magazine