Robert Taylor honoured as distinguished researcher
14 OCTOBER 2007
The ASRM Distinguished Researcher Award has been presented to Professor Robert Taylor, who has devoted an almost 30-year career to the study of endometriosis.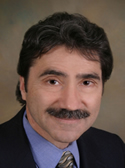 The American Society of Reproductive Medicine honoured Robert Taylor MD PhD at its 63rd annual meeting with its Distinguished Researcher Award. Professor Taylor, who is the McCord-Cross professor in the department of obstetrics and gynaecology at Emory University, Atlanta, is the third recipient of the award.
Robert Taylor said in an interview that he was "quite surprised, frankly" to be given the award, though his colleagues were less surprised. Said Andrew La Barbera PhD HCLD, scientific director of the ASRM:
Dr Taylor really stood out, because his work combines clinical and basic science research. He has really made major contributions.
Professor Taylor conducted much of his research at the University of California, San Fransisco, where he worked until relocating two years ago, and where he also did his residency. He has most been interested in how hormones influence gene expression in endometrial cells to create an inflammatory environment and spur angiogenesis when they are in the peritoneum.
In one recent publication, Professor Taylor and colleagues reported that the peroxisome-proliferator-activated receptor (PPAR-y) agonist rosiglitazone can suppress vascular endothelial growth factor (VEGF) protein secretion by endothelial cells; work that suggests that PPAR-y ligans could be used to block angiogenesis in endometriosis and endometrial adenocarcinoma [1].
In another publication, his group described how sulindac suppresses the nuclear factor-kappaB pathway in endometrial stromal cells, inhibiting proinflammatory processes [2].

In his future work, Dr Taylor intends to focus on angiogenesis in endometrial adenocarcinoma and on the utility of some herbal remedies, such as curcumin, a component of the Indian curry spice turmeric, for treating the symptoms of endometriosis [3].
References
Peeters LL, Vigne JL, Tee MK, Zhao D, Waite LL, Taylor RN. PPARgamma represses VEGF expression in human endometrial cells: implications for uterine angiogenesis. Angiogenesis 2005;8(4):373-9.
Wieser F, Vigne JL, Ryan I, Hornung D, Djalali S, Taylor RN. Sulindac suppresses nuclear factor-kappaB activation and RANTES gene and protein expression in endometrial stromal cells from women with endometriosis. J Clin Endocrinol Metab 2005;90(12):6441-7.
Wieser F, Cohen M, Gaeddert A, Yu J, Burks-Wicks C, Berga SL, Taylor RN. Evolution of medical treatment for endometriosis: back to the roots? Hum Reprod Update 2007;13(5):487-99.