European Union grants funding for endometriosis work in Europe
10 MAY 2007
Historic funding from the European Union provides encouraging news for millions of women whose lives are affected by endometriosis.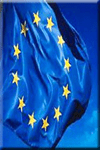 The Public Health Executive Agency of the European Union has to today announced a €296,000 grant to a European coalition of universities and patient support organisations to improve awareness of endometriosis in Europe.
This is the first time that the EU has provided funds for work in the field of endometriosis and is the result of several years of awareness raising in the European Parliament and European Commission by the European Endometriosis Alliance.
Project partners
The partners in this project, which is the first of its kind, are:
Oxford University (UK)
Leuven University (Belgium)
Catholic University of Rome (Italy)
Hospital San Carlo (Italy)
Endometriose Foreningen (Denmark)
Endometriosis UK (UK)
TNS Social Research (UK)
Endometriosis.org (Global)
This coalition, bringing physicians, women with endometriosis and professional organisations together, will be working over the next three years to address three main areas of work, beginning with a pan-European quality of life study.
Project aim
The research aims to engage 10,000 respondents across participating countries in understanding the impact of endometriosis and will also include vital socio-economic data.
The second part of the project will be to create an Internet based Endometriosis Community Gateway which will be the first port of call for anyone wanting information about endometriosis (including the public, health professionals and employers) and guiding them to where they can best find the information they seek.
The final element is the development of a clear strategy for supporting the estimated 16 million women across the EU battling with endometriosis and to strengthen the European Endometriosis Alliance. The grant will enable the European endometriosis charities, many of whom have very little or no funds, to develop their own work as well as create a more powerful European group.
Rob Music, chief executive of Endometriosis UK, which is the lead partner, says:
While there have been some improvements in the diagnosis and funding of endometriosis there is a still a long way to go. It is simply unacceptable that millions of women across Europe continue to live with an illness stagnating as a result of misunderstanding and inadequate levels of funding. We are delighted and thankful for the recognition of this need by the EU through this grant which should make a great difference at so many levels.
Lone Hummelshoj, who has campaigned for the past four years for more funding in Europe, expressed her delight at the grant:
A lot of work in getting endometriosis officially recognised by the European Union has now paid off. Hopefully, this grant will only be the beginning of serious funding into raising awareness of endometriosis, and to obtain investment for causal research into the disease. Causal research may help develop treatments that actually work, and which subsequently will preserve these women's fertility, improve quality of life, and reduce socio-economic costs. We are not there yet. But this is an excellent start!