ESHRE launches endometriosis app
Following the publication of its guideline "Management of Women with Endometriosis", the European Society of Human Reproduction and Embryology (ESHRE) has developed an application for smart phones and tablets which provides a decision-aid function entirely based on the recommendations of the guideline.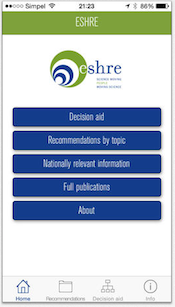 The app, developed by Gerard Dunselman, Nathalie Vermeulen, and AnneMiek Nap, summarises the published guideline's 83 recommendations structured for easy browsing.
The app's main feature, however, is a decision-aid on six key issues in endometriosis care including the recognition of symptoms, clinical examination and establishing a diagnosis, and treatment of endometriosis-related pain and endometriosis-associated infertility.
The division and a clear overall structure allows different entry points when accessing the app.  Physicians will be guided through questions conveniently leading to evidence-based answers which will enable them to provide appropriate recommendations for each individual woman's needs – based on her current symptoms.
It is recognised that availability of medical treatments varies from country to country and thus a section of the app provides nationally relevant information as well.
According to Dr Dunselman, who presented the App during ESHRE's 30th Annual Meeting in Munich,
The availability of an app reflects the greater reliance of physicians today on smart technology to aid them with their diagnosis and appropriate treatment.

Whereas the app aims to provide evidence-based information on endometriosis at the fingertips of clinicians, the ultimate aim of the guideline and app is to improve the quality of care and the quality of life of women with endometriosis.
said Dr Dunselman.
The app, as well as the web-based guideline, is available for free for ESHRE members, with a special offer making it free for everyone during the ESHRE Annual Meeting this week in Munich, Germany

The app can be downloaded from the App Store and Google Play, or you can scan the QR code.
See also
→ What is endometriosis?
→ Current treatments for endometriosis
→ Coping with endometriosis