ESHRE2017: Measuring and enhancing endometrial receptivity to improve pregnancy outcomes
A packed hall listened to international experts explaining endometrial receptivity at the ESHRE Special Interest Group on Endometriosis and Endometrial Disorders's highly successful pre-congress course in Geneva, Switzerland.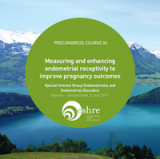 SIGEED course coordinators, Dr Andrea Romano and Professor Andrew Horne, have summarised the course, which got off to a great start with an excellent lecture from Professor Hilary Critchley (Edinburgh, UK) who gave a thorough overview of endometrial function: focusing on its role in implantation. The need for a better knowledge of specific cellular pathways involved in inflammation and steroid signalling was emphasised.
Dr Andrea Romano (Maastricht, Netherlands) followed with a brilliantly constructed lecture on the role of steroid hormones in controlling endometrial receptivity and special emphasis was given to the need to assess the real 'local' endometrial steroid levels (intracrinology). The lecture highlighted the relevance of defining the window of implantation in a 'personalised' way to improve ART outcomes, and overviewed biomarkers and tools available to assess the endometrial receptivity.
Professor Ruth Grummer (Essen, Germany) presented the currently available in-vitro and animal models to study endometrial receptivity. She discussed their relative advantages and disadvantages, in terms of relevance, cost, and availability.
Dr Peter Ruane (Manchester, UK) then gave an outstanding evolutionary perspective on the role of the endometrium in implantation. In his lecture, he discussed the 'negotiation' that he believes occurs between the maternal side and the presenting embryo. Embryo selection, the need to differentiate recurrent implantation failure from recurrent miscarriage, and the multi-level hypotheses of endometrial receptivity were overviewed.
Professor Bruce Lessey (Greenville, USA) followed this lecture and explained that women who report implantation failure after several IVF attempts represent a sub-group of infertile women who cannot be treated with standard IVF protocols.
Dr Mostafa Metwally (Sheffield, UK) gave a superb lecture on the potential role of the endometrial scratch in ART. The lecture emphasised that data from meta-analyses should be considered with extreme caution before we change our clinical practice. We await the results of his large multicentre trial on the topic with interest.
Professor Carlos Simon (Valencia, Spain) presented his pioneering data on the use of endometrial stem cells to treat women with Asherman's syndrome (also a keynote lecture in the main scientific programme). Again, we await with interest the results of his proposed clinical trial to determine the cost-effectiveness and safety of this treatment.
Our highly educational course generated a huge amount of discussion from the audience and was closed by a very practical lecture from Professor Siladitya Bhattacharya (Aberdeen, UK), who explained that there were many 'treatments' for endometrial receptivity that were being offered to women with implantation failure without any good evidence. He emphasised the need for more trials and better clinical practice – a view shared by all!
ESHRE provides two research grants for endometrial receptivity
At the opening ceremony of the 33rd annual meeting of ESHRE, two research grants were provided to investigators of endometrial receptivity.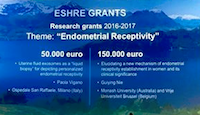 Dr Paola Vigano, Ospedale San Raffaele (Milano, Italy) received euro 50,000 to investigate uterine fluid exosomes as a "liquid biopsy" for depicting personalised endometrial receptivity.
Dr Guiying Nie, Monash University (Melbourne, Australia) received euro 150,000 to elucidate a new mechanism of endometrial receptivity in women and its clinical significance.
See also