EFA2012: Tapping the roots for the next generation
New York, 14 – 15 March 2012
The Endometriosis Foundation of America's 3rd Annual Symposium this week was packed full of specialists in endometriosis sharing the latest developments in this field, including basic science and the forefront of surgical treatment of the disease – and an audience ready for debate!
Throughout this two-day meeting discussion played a key role, which was a central part of the purpose of the meeting: the exchange of ideas from a multi-disciplinary faculty.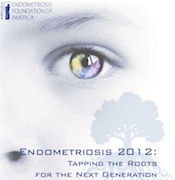 Under the scientific chairmanship of doctors Tamer Seckin, Harry Reich, and CY Liu, thirty-six international faculty came together to address the underlying issues of endometriosis with a view to ensure better treatments for the next generation of women.
The meeting was kicked off by professor emeritus Jack Sciarra, who addressed a historical perspective of hysterectomies – a staggering 600,000 are still performed each year in the USA.
→ Professor Sciarra's presentation (film and transcript)
All the highlights below link to each presenter's film and transcript.
Session I
Session I comprised lectures by doctors Antonio Setubal and Harry Reich discussing the key role of film in the excellency of laparoscopic surgery as a learning tool and quality control measure, deep fibrotic endometriosis of the cul-de-sac and bowel, and the indication and techniques of hysterectomy.
The major question being: is what we diagnose today as endometriosis really endometriosis?
Session II
Dr Maurice Chung commenced this session by discussing simple procedures to reduce unnecessary surgeries, followed by Dr Tamer Seckin who explained endometriosis of the retroperitoneum (bladder, ureter, and pelvic floor).
Dr Steven Palter went on to talk about the now and the future in terms of the current and potential technological transformation of surgery when you combine film and medicine.
Session III
During the lunch session Padma Lakshmi, co-founder with Dr Tamer Seckin of the Endometriosis Foundation of America, took the microphone to talk about her journey with endometriosis.   This was followed by the personal journeys of three women with endometriosis, Jhumka Gupta, Ekta Misra, and Noemi El Hadad, whose stories were debated with the audience.
On the second day of the conference, Thursday the 15th of March the key message was:
think paradigm challenging thoughts!
Session I
Linda Griffith PhD kicked off the second day by provokingly proclaiming that endometriosis is not a benign disease, her rationale being that a disease which has such a tremendous impact on a person's life is not "benign"!
Dr Patrick Yeung went on to ask whether endometriosis can be eradicated through early detection and complete excision, followed by Professor Thomas D'Hooghe who, in a similar vein, queried if early detection and treatment can prevent adult endometriosis?  The conclusion was that we don't know, but that this should not prevent anyone from treating endometriosis at the earliest onset of symptoms!
Stacey Missmer ScD concluded this session by emphasising the importance of what we do now does matter later!
Session II
For the past three years, EFA has honoured outstanding pioneers in the field of endometriosis*.
This year's Scientific Honouree was Professor Hugh Taylor, Yale University, recognised for his outstanding work in genetics, epigenetics, and stem cells, which was the topic of his key note lecture.   Professor Taylor has recently published a description of the genetic basis of endometriosis suggesting that a specific gene mutation may shed new light on different types of endometriosis, which will be valuable in targeting treatments to specific types of the disease.
He was followed by Dr Grace Janik, addressing applied anatomy for the treatment of endometriosis, and Dr Juan Salgado-Morales, who explained the role of sonography in the early diagnosis of deep infiltrating endometriosis.
Session III
Session III saw the second key note lecture of the day delivered by Clinical Honouree Professor Charles Koh, who as a surgical pioneer merged the art of microsurgery to laparoscopic surgery and performed the world's first laparoscopic tubal anastomosis in 1992.   In his lecture Dr Koh explained how to merge micro surgery with laparoscopy: excision surgery that gives rather than takes away.
Dr Charles Miller went on to discuss laparoscopic surgical treatment for pelvic pain, followed by a compelling presentation by Dr Arnold Advincula arguing for the next frontier in endometriosis surgery: robotically assisted surgery.
The day concluded with a debate on the ongoing challenge of determining which types of endometriosis warrant which type of treatment and, indeed, whether different types of endometriosis can be identified through new classification systems and thus make treatment outcome and further risk of recurrence predictable, as expertly explained by Dr David Adamson.
The Annual Scientific Symposium by EFA has, in its third year, proven to be meeting where you want to be, if you are seriously involved in endometriosis, to share leading edge technologies with your peers and debate the value of these.
→ Keep up to date with instant news in endometriosis by following us on Twitter
*Previous EFA Honourees
2009:  Harry Reich
2010:  Camran Nezhat (clinical) and Linda Griffith (scientific)
2011:  David Redwine (clinical) and Caroline Gargett (scientific)