ASRM2010: Is anything happening in endometriosis?
by Lone Hummelshoj, reporting from Denver on 25 October 2010
In the many years where I have been involved as an advocate in the field of endometriosis, the question I am most often met with is: why is nothing happening in endometriosis?
Let me tell you: there is a lot happening in endometriosis! In fact, it never ceases to amaze me just how many clinicians and scientists invest their time in investigating endometriosis with a goal to improve treatments for the estimated 176 million women worldwide, who suffer from this disease.

This is evident in all the international meetings I attend, where endometriosis is always featured on the agenda, and also very much so at the 66th Annual Meeting of the American Society for Reproductive Medicine (ASRM), 23 – 27 October 2010 in Denver, USA.
The Mile High City has welcomed ~8,000 physicians from across the world.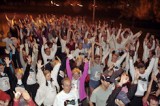 Following a weekend of post-graduate courses (non addressing endometriosis, however), the ASRM kicked-off with its inaugrual Run for Reproductive Health. The 5K run/1M walk, took place in Denver's City Park at 06:30, where 250 runners and walkers contributed to the future of reproductive medicine through their involvement in the race.
Whilst I was walking (I finished 5th, and it was still dark when we crossed the finishing line!), Heather Giudone from the EFA attended the breakfast symposium:
» Best practice in endometriosis: working together!
Professors Linda Giudice (University of California San Francisco), Marc Laufer (Children's Hospital Boston and Harvard Medical School) and Eric Surrey (Colorado Center for Reproductive Medicine)  addressed current treatments for endometriosis and how to counsel patients on the risks and benefits associated with these.
There was general agreement that all treatments for endometriosis are found lacking: there is no cure!  A challenge with medical treatments, for example, is that even when ovarian hormonal production has been stopped, aromatase (oestrogen production) may not stop as this process may be supported by the endometriosis lesion itself.  And, as for those lesions (whose size is not reflective of pain levels!) they are proliferative, anti-apoptosis, pro-angiogenesis, progesterone resistant, and highly inflammatory – quite a few matters to address all at once!  Future medical treatments may therefore include better use of Chinese herbs, PPAR-gamma agonists and anti-angiogenesis drugs.
But there is quite a way to go yet!  In the meantime, it was stressed that when using GnRH-analogues add-back therapy should be commenced immediately to avoid unpleasant side-effects, including bone density loss.  In terms of oral contraceptives (OCs), the experts agreed that there is no evidence to suggest that any type of OC is more effective than others, when it comes to managing the symptoms of endometriosis.
When treating endometriosis surgically it is important to recognise that surgery is surgeon dependent and that recurrences happen even in very experienced hands.  In fact, neuropathic pain (phantom pain) may still be present after complete excision, which may account for recurrence of symptoms, and which consequently presents another challenge.
Finally, the symposium addressed endometriosis in adolescents. Whereas 20-90% of adolescents have pain in their cycle of ~3 days a month (which is quite normal), then it is important to recognise that if these symptoms interrupts the woman's life, then it is not normal and she should seek help!  In fact, it was stressed to clinicians that they be careful about "normalising symptoms"
if a young woman complains of pain, which disrupts her life, then most like it does!  And, if that disruption is due to endometriosis, then this is not a "woman's lot in life" – it can, and should, be managed!
It was felt strongly that empirical treatment, other than NSAIDs and OCs, should not be used in teenagers, and needless to say a hysterectomy is not appropriate for this age-group either.  In fact, the goals for treating the younger women are:
protection of fertility
limiting progression of the disease
limiting surgeries
using suppression drugs as appropriate.
The experts concluded that the management of endometriosis is going to dramatically change in the next few years, due to the immense activity that is happening in this field at the moment and the increased understanding of the disease that comes with it.
Full coverage of this session has been published in SRM ("Sexuality, Reproduction, and Menopause", a publication of the ASRM) and the webcast is now online (updated February 2011).
For now, however, there are, unfortunately, too many unanswered questions still…. let's see if a few more answers present themselves over the next few days.
To stay up-to-date with news in endometriosis, follow us: twitter.com/endometriosis