100 questions and answers about endometriosis
by david redwine (MD)
The latest book on endometriosis examines the benefits and flaws of current treatments, and provokes readers to question the validity of "accepted assumptions".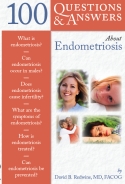 Well-known endometriosis surgeon, David Redwine MD FACOG, has authored 100 questions and answers about endometriosis, a book, which encourages the reader to question and challenge non-validated assumptions about the treatment of the disease.
But, more than anything: the book provides straight forward answers to 100 questions about endometriosis!
Topics include: Basics; Symptoms; Treatment; Surgical treament; Fertility issues; Heredity; What future treatments might be; and Can endometriosis be prevented?