JLA PSP Steering Group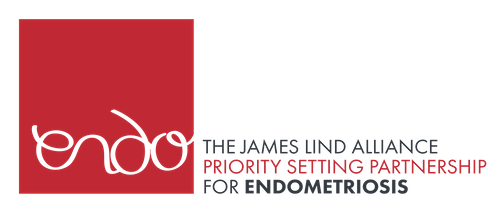 The James Lind Alliance (JLA) Priority Setting Partnership for Endometriosis project is managed by a steering group, led by an independent chair from the JLA. The steering group includes representation of patient groups and health care professionals.
Patient representatives

Judy Birch
Judy Birch is co-founder of the Pelvic Pain Support Network. Her interest is in improving the quality of information, education, and research relating to endometriosis and pelvic pain as well as other conditions resulting in pain in the abdomen/pelvis.

Emma Cox
Emma is the CEO for Endometriosis UK, a charity that helps women with endometriosis take back control by providing vital support services, reliable information, and a community for those affected by endometriosis. Emma is a strategic change management specialist with over 20 years experience working in membership and volunteering organisations.

Mary Heslin
Mary Heslin is on the board of the Endometriosis Association of Ireland. She has been a corporate librarian and archivist for AIB Bank in Dublin for the past 25 years. She is a qualified financial adviser (QFA) and a member of the Institute of Bankers in Ireland and the Library Association of Ireland.

Lyndsey Hogg
Lyndsey Hogg is a woman with severe endometriosis. She is a volunteer support group leader for Endometriosis UK, the patient representative for EXPPECT Edinburgh – a clinical service and research hub for women with endometriosis and pelvic pain, a lay member on the NICE Endometriosis Guidelines Committee, and a student on the EUPATI Patient Expert in Medicines Research and Development course.
Clinical representatives

Christian Becker
Dr Christian Becker is an associate professor at the University of Oxford. He is a consultant gynaecologist and sub-specialist in reproductive medicine. Dr Becker is the clinical lead of and co-directs the Oxford Endometriosis CaRe Centre. Dr Becker has been a member of the guideline development group for the ESHRE endometriosis guideline and is an expert witness for the development of the NICE guidelines on endometriosis.

Dharani Hapangama
Dr Dharani Hapangama is a consultant gynaecologist and the co-lead for the large Liverpool BSGE endometriosis centre providing specialist medical/surgical treatments for women with endometriosis. She is the reader for gynaecology at university of Liverpool where she leads an active translational research group developing new treatments for endometriosis.

Andrew Horne
Professor Andrew Horne is a consultant gynaecologist and holds a personal chair in gynaecology and reproductive sciences in Edinburgh. He is clinical lead for EXPPECT – a clinical service and research hub for women with endometriosis and pelvic pain. He is chair of the ESHRE Special Interest Group for endometriosis, medical advisor for Endometriosis UK and the Pelvic Pain Support Network, and a member of the endometriosis NICE guideline group.

Rajiv Chawla
Dr Rajiv Chawla is a full time consultant in pain medicine and neuromodulation. He is the lead for chronic pelvic pain service at The Walton Centre NHS FT, Liverpool. He is medical lead for the pain management programmes at The Walton Centre. He also provides the MDT endometriosis pain service at Liverpool Women's NHS FT.

Uma Marthi
Dr Uma Marthi is a GP with a special interest in women's health, working at Castleton Health Centre, Rochdale. She is on the medical advisory panel and is a trustee board member for Endometriosis UK. She is a GP trainer and is one of the founders of the primary care women's health forum, UK.

Wendy Mitchell
Wendy-Rae Mitchell is a clinical nurse specialist (women's health), based in Surrey.  She is a member of Endometriosis UK medical advisory panel.  She facilitates a local support group and offers information days to women with endometriosis and educational courses for nurses who care for them. She is a member of the endometriosis NICE guideline group.

Sarah Edwards
Dr Sarah Edwards is a chartered clinical psychologist who has worked in pain management since 2008. She works at University College London Hospital with persistent pain patients to improve quality of life using cognitive-behavioural methods and mindfulness meditation. Dr Edward's special interest is in working with patients with abdomino-pelvic pain, and she leads a multi-disciplinary pain management programme for patients with pelvic pain.
Advising (non-voting) steering group members
Philippa Saunders
Philippa Saunders is a reproductive scientist who is well known for her studies on the actions of sex steroid hormones and diverse ways in which they orchestrate reproductive health disorders. She is the non-clinical lead of the EXPPECT research programme in Edinburgh. Philippa is strongly committed to training the next generation of researchers in women's health.

Krina Zondervan
Krina Zondervan is professor of reproductive and genomic epidemiology and co-director of the Endometriosis CaRe Centre at Oxford University. She has spent >20 years researching epidemiology and genetics of endometriosis and associated symptoms. She is principal investigator of a number of large collaborative studies, including the WERF EPHect initiative and is the chair of the tri-annual WES/WERF endometriosis research priorities workshop.

Ibtisam Abokhrais
Dr Ibtisam Abokhrais is a clinical research fellow at the University of Edinburgh. She is a gynaecology and obstetrics trainee with a special interest in endometriosis, and she is looking at areas of uncertainty in endometriosis research during her PhD.

Lone Hummelshoj
Lone Hummelshoj is an internationally recognised advocate in endometriosis, who has successfully worked to progress endometriosis awareness and research collaboration on all six continents. She is the editor-in-chief/publisher of the global online resource Endometriosis.org, the secretary general of the World Endometriosis Society (WES), and the chief executive of the World Endometriosis Research Foundation (WERF).
The partnership and the priority setting process is supported and guided by

Leanne Metcalf
Leanne is the chair for the Endometriosis Priority Setting Partnership (PSP), working on behalf of the James Lind Alliance (JLA). She has worked for a number of medical research charities funding research into a variety of different health conditions, and has a strong background in project management and facilitation. She was involved in the very first PSP in asthma in 2006/7 and has been chairing a variety of partnerships as JLA adviser since 2013.

Katherine Cowan
Katherine is Senior Adviser to the JLA and has been a key contributor to its development since 2008. Katherine has chaired almost 20 PSPs and facilitated at more than 30 priority setting workshops. Her professional background is in social research and she has a particular interest in public participation and inclusion. Katherine joined the Endometriosis PSP as Chair in September 2016, covering for Leanne Metcalf's maternity leave.