Laparoscopic appearance of endometriosis
The famous "Colour Atlas" of the laparoscopic appearance of endometriosis has been re-issued and is now available for free download from the Internet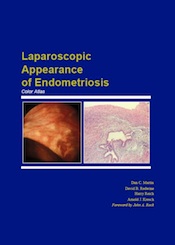 The Colour Atlas, authored by doctors Dan Martin, David Redwine, Harry Reich, and Arnold Kresch, was first published in 1990. It was revised for the web in September 2007 and again in January 2017.
Recognition of endometriosis is necessary for diagnosis and treatment, and as this volume demonstrates the diagnosis of endometriosis and differentiation from other diseases of similar appearances can be difficult.
This volume provides, in addition to descriptions of retroperitoneal disease, unique photographs of various atypical presentations of endometriosis as well as of diseases that may masquerade as endometriosis.
As John Rock writes in the foreword:
Removing these lesions requires careful observation not only for dark puckered lesions but also for the subtler varieties.  The gynaecologist will find the text and slides a valuable addition to his or her library. Careful study of the atlas will help the laparoscopist identify lesions he or she may not have appreciated in the past.