Family and partners of those with endometriosis
by Lone Hummelshoj
The life of a woman with endometriosis affects not only her – but those who care for her: including partners, parents, siblings, family, friends, colleagues – and her children.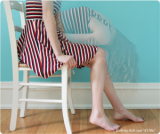 A woman with endometriosis must deal with a disease that in many cases will interfere with her life, her ability to function sexually, threaten her fertility, and impedes her from having a satisfying work life and participate in the normal activities of living, playing, and carrying on meaningful personal relationships.
And this affects those who care about her as well!
No visible handicap
Because endometriosis does not provide a visible handicap it can be very difficult for others to understand how this disease can affect one's life so profoundly – and how pain and chronic fatigue at the same time can be so invisible physically (no scars, no missing limbs), and yet so visible because of the way in which they may hinder a woman from carrying out day to day activities.
Obviously this will affect so many aspects of her life – and also the life that this person shares with others.
How do you understand another's pain?
It can be very difficult to understand pain or fatigue in another person, but if you know someone with endometriosis the biggest favour you can do to her is to learn about her disease.
Understanding what the woman you care about is dealing with crucial.
Endometriosis is a condition for which there is – for most – no cure. She, and you, have to come to terms accepting this and living with a chronic disease. This may mean times with severe pain, with extreme exhaustion and, for some, accepting that she will never have children.
She may not have a visible handicap, but she may still be in pain both physically and emotionally.
And she needs her partner, family and friends to support her – not in the short term, but in the long term.  Endometriosis does not go away.
How can you help?
Your love and support becomes very important, and the following articles may help you to support the person you care about, who has endometriosis:
Communications: one way to understand endometriosis
What do I tell others about endometriosis?