World Endometriosis Organisations (WEO)
The World Endometriosis Organisations (WEO) was established in 2017 to address the significant global issues facing those with endometriosis and improve health outcomes for girls and women around the world.

→ Official launch (press release)
Background
Representatives from several endometriosis organisations met at the World Congress on Endometriosis (WCE) in Vancouver in May 2017. At that meeting, it was decided to establish a world network of organisations to collaborate, advocate, and engage in activities relative to mutually agreed campaigns, education, and research. 
WEO is a professional organisation with the potential to encourage greater emphasis on collaboration, improve relationships with all stakeholders, share expertise to advance skills and knowledge, contribute to the research, and identify new and innovative opportunities to enhance more connectivity and positive contributions to the cause.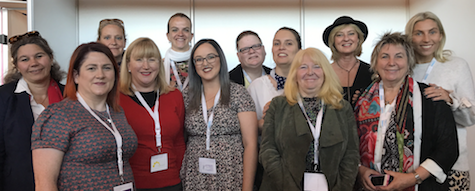 Deborah Bush initiated the idea and heads the organisation. The Steering Committee is to be announced. WEO is affiliated to the World Endometriosis Society (WES).
WEO purpose
WEO mission
WEO's mission is aligned with that of the World Endometriosis Society:
to advance evidence-based standards and innovations for education, advocacy, clinical care, and research in endometriosis and related disorders, in collaboration with stakeholders and global partners to improve the lives of all affected women and their families.
WEO membership
Each member organisation must be a registered charity or NGO (not for profit) in their respective country. WEO member organisations must agree to and sign the WEO memorandum of understanding (MOU). Membership is currently free.  WEO encourages member organisations to be members of WES. The WEO is apolitical and members agree not to interfere with the branding, policies, procedures and purpose of each group. 
September 2020: 30 endometriosis organisations have been accepted as WEO members.
WEO membership organisations
WEO steering committee
Deborah Bush (principal) | World Endometriosis Society
Philippa Bridge-Cook | The Endometriosis Network, Canada
Emma Cox | Endometriosis UK
Ambah Grant | Trinidad and Tobago Endometriosis Association
Michelle E Marvel | Endometriosis Research Center, USA
Elsie Wandera-Odhiambo | Endometriosis Foundation of Kenya
Newsletters
Contact
Please contact us for more information. 
See also