Update from the Finnish Endometriosis Society (2008)
DECEMBER 2008
The Finnish Endometriosis Society has had a productive year and shares it successes with other groups in preparation for their 10th anniversary in 2009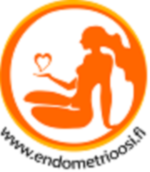 The Finnish Endometriosis Society organised a public lecture on endometriosis in Jyväskylä in Ocotber 2008, which was held by a specialist in gynaecology and obstetrics Arja Kuronen.
They also had a public meeting in Lahti on 2 December. The lecturer was a specialist in gynaecology: Minna Kauko.
These lectures in Finland have been planned with the co-operation of the Endometriosis Club´s physicians.
These lectures are open for everybody and free for the participants. They are meant to increase the awareness of endometriosis among the general public.
The logo of the Society has been updated and plans for the 10th year anniversary celebration for next year are made. An anniversary book will be published next year and preparations are currently under way.
New patient guide booklets will be printed soon and a new contract has been made with Astra Zeneca medical corporation. The number of  members is growing and new peer support groups have been founded in Seinäjoki, Lappeenranta, Kajaani and Joensuu. These groups have been informed about the Society´s policy and regulations. They will start functioning soon.
The Society has been working with health and social work students that do their dissertation work on endometriosis. This cooperation with numerous dissertation projects has kept us quite busy all autumn.
The Society organised a meeting in the health spa Kaisankoti in Espoo on training new peer support group leaders for the Association and planning hospital visits. These visits will be made in cooperation with the hospital staff and are soon piloted in different parts of Finland. Awareness of endometriosis will be increased by visiting patients in need. The meeting also provided an opportunity for the peer support group leaders to network with members by learning from each other.
SEE ALSO
» Finnish Endometriosis Society
» List of national support organisations