Associazione Italiana Endometriosi celebrates eight years
Milano, 19 April 2007
At its annual general meeting held on Saturday 14 April 2007 Associazione Italiana Endometriosi (AIE) celebrated the enormous progress it has made during the last eight years – not least the recent progress made with the Italian Senate's five year plan, presented in the European Parliament at the end of March.
There were definitely good reasons to celebrate!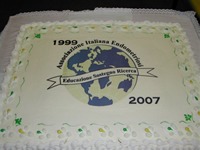 Since the AIE was founded in 1999, it has filled a huge gap: before 1999 nothing was available for women with endometriosis in Italy. No support, education or awareness whatsoever. The AIE has spent the last eight years working hard at raising awareness about endometriosis and providing education, research facilitation, and patient support to the Italian endometriosis community.
Jacqueline Veit, AIE co-founder and president, said:
No one with this disease should ever feel alone, and one of our goals has always been to ensure that women never have to feel that way again.
Veit, who has been working closely with the Italian Senate and MPs went on to say:
We are very proud of the results that we have achieved so far, and especially the part our Association has played in getting politicians to listen and take action. After collaborating with the Italian Senate for the investigation into endometriosis as a social disease, we are now working on a proposal of law.
Iside Fontana, AIE vice-president and manager of community education, added:
In Italy there is generally a much greater awareness of the condition than eight years ago before our Association started.

However funding for endometriosis is still worryingly low, and as a national charity we are left to manage with our own resources – which mainly consist of the membership fee – to fund our work.
During the afternoon the AIE held a lively and interesting public debate which featured speakers: Professor Paolo Vercellini, Dr Paola Viganò, and Dr Edgardo Somigliana, scientific advisors to the AIE and members of CROG (Center of Research in Obstetrics and Gynaecology), as well as AIE president Jacqueline Veit. The lively debate touched on a variety of topics including:
Latest theories on causes of endometriosis;
Assisted reproduction;
Cancer and Endometriosis;
Medical therapy;
Pain control.
The debate offered participants the precious opportunity to receive up-to-date information on endometriosis from a group of internationally recognised researchers, who have been working on endometriosis since the beginning of their careers.
After the event one participant commented:
I'm really glad I came and would like to thank the AIE for once again organising a useful event like this. I've received information from a reliable and independent source. Actually I've been struck by the openness and honesty of the information provided in response to our questions and my only regret is not having known about the association before my surgery two years ago so I could have made better informed decisions.