Alexa Chung raises funds for endometriosis research
In celebration of International Women's Day 2021, ALEXACHUNG has partnered with the World Endometriosis Research Foundation (WERF), on a limited-edition t-shirt to raise vital funds for research into this disease and drive awareness of the challenges faced by sufferers in receiving diagnosis and treatment.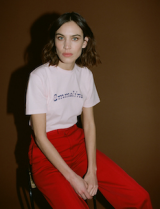 Launching this International Women's Day 8 March, the ALEXACHUNG limited edition 'Emmeline' t-shirt pays homage to leading British women's rights activist Emmeline Pankhurst, one of the most extraordinary and inspiring figures in feminist history.
Available to buy in two colour iterations of pale pink or yellow, 100% of profits from the sales of the t-shirt will be donated to the World Endometriosis Research Foundation to advance their invaluable work on endometriosis research.
Endometriosis research and awareness
Alexa Chung, Creative Director of ALEXACHUNG said of the collaboration
I'm so pleased to partner with WERF on this project. The idea that we might be able to in some small way help with the work towards finally understanding this omnipresent, disruptive disease makes me feel genuinely happy.
Lone Hummelshoj, Executive Director of WERF said
It is wonderful when those with endometriosis and a platform to talk about it, like Alexa, take constructive action to contribute to improving the lives of fellow sufferers. We need research to understand endometriosis and develop targeted treatments.

Research costs money. With ALEXACHUNG partnering with WERF to donate the proceeds from the sale of this t-shirt, we are one step closer to raising the funds that are needed to progress our discovery work of preventing endometriosis in the next generation.
Alexa Chung in conversation with Lone Hummelshoj
To mark the IWD partnership between ALEXACHUNG and WERF, Alexa Chung caught up with Lone Hummelshoj to find out more about endometriosis, and the work that she does.
World Endometriosis Research Foundation
Established for 15 years, WERF is a global charity which facilitates a collaborative approach using standardised tools to collect data and samples. Findings are shared among research facilities around the world for further insight into discovering and understanding why different types of endometriosis occur, and how they progress to cause such a wide variety of debilitating symptoms. The ultimate goal is to improve diagnostic methods and to develop targeted treatments so that in the future, endometriosis can be prevented and millions of lives will no longer be compromised by this disease.
See also