AAGL2011: Endometriosis focus at the 40th Annual Meeting of the AAGL
10 November 2011 | by Lone Hummelshoj
There was added emphasis on endometriosis at this year's AAGL meeting attended by more than 1500 delegates from many countries. Key note lectures featured Padma Lakshmi and Linda Griffith – and Professor Leila Adamyan was honoured at the opening ceremony.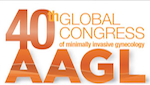 At its 40th Annual Meeting the AAGL had chosen endometriosis to feature in this year's Jordan M Phillips Keynote Session.
Padma Lakshmi, who is well known in the USA and a co-founder of the Endometriosis Foundation of America, kicked off the session talking about endometriosis from a patient's perspective – a woman, who struggled to get a diagnosis and consequently battled debilitating pain for a large part of her adult life.
I had my period 25% of each month, often having to take several days off to stay in bed because of the pain
said Lakshmi who, after surgical excision of her disease, is now the proud mother of a daughter.
Endometriosis is not a benign disease
Endometriosis is not a benign disease, according to Professor Linda Griffith who is the Director of the MIT Center for Gynepathology Research, a member of the National Academy of Engineering, a MacArthur Foundation "Genius" Grant Fellow – and, who teaches Physical Chemistry (molecular thermodynamics).
The word "benign" is used in the medical community in references to diseases that are not cancerous. From the patient/scientist perspective, however, Professor Griffith urged that any form of symptomatic endometriosis be referred to as "non-malignant" in order to capture the significant morbidity this disease exerts on the daily lives of patients.
The use of the term "non-malignant" also highlights that certain pathological processes are shared by endometriosis and various forms of cancer, and that the respective research communities might learn from each other!
The surgical community, in fact, has been extraordinarily receptive to building closer ties to the basic science and engineering communities, as shown at the AAGL by featuring a scientist as a key note speaker!
What does the MIT Center for Gynepathology Research do?
The MIT Center for Gynepathology Research (CGR), which is based in the School of Engineering with strong ties to the School of Science and Harvard Medical School, was founded in part to increase basic and translational research in endometriosis by biological engineers, biologists, chemists, and others at the forefront of research in other areas of biomedicine. At the time the CGR was founded, dozens of MIT faculty were actively involved in breast cancer research, but no one was investigating endometriosis.
Now, about a dozen MIT faculty in 5 different academic departments are actively engaged in basic and translational endometriosis research, with access to both patient tissues and clinical perspective from the CGR clinical co-director, Dr Keith Isaacson and his partner Dr Stephanie Morris, along with Harvard School of Public Health collaborator Dr Stacey Missmer.
Drawing from advances in cancer and other fields, MIT addresses the following questions:
Improving patient stratification – can we find better molecular markers that will allow prediction of whether patients will develop aggressive forms of endometriosis, and even cancer, to tailor therapies?
Molecular mechanisms of disease progression, to inform development of new drug targets, and
Aetiology of endometriosis.
Can we learn how to predict endometriosis the way early stage breast cancer can be predicted?
As an example of MIT's efforts to develop better stratification, a new method for predicting which early stage breast cancer patients will likely have metastatic recurrence was described by Professor Griffiths. The approach, called the "tumour micro-environment of metastasis", was pioneered by MIT biologist Frank Gertler and coworkers at Albert Einstein Medical School.
Professor Gertler discovered how a protein that helps control movement in normal cells, "Mena", can be mutated to cause tumour cells to be highly invasive and move into the bloodstream. In examining histology of tumours, the tumours are scored for how many times the pathologist sees a combination of a tumour cell expressing this protein next to a blood vessel and next to a macrophage – a high score gives a 22-fold higher probability of metastasis.
It is known that endometrium expresses Mena and that Mena can be overexpressed in endometrial tumours, but whether it is associated with endometriosis is unknown. One facet of MIT research is to investigate possible association of mutant Mena with invasive forms of endometriosis, and this new frontier is being approached in a multi-investigator collaborative effort that includes scientists from several countries.
Watch this space for more news on these exciting research initiatives!
Professor Leila Adamyan is honoured by the AAGL
Professor Leila Adamyan, well-known in the field of endometriosis, was presented with an "Honorary Membership of the AAGL" at the opening ceremony of its 40th Annual Meeting.
This very distinguished honour is bestowed on those AAGL members, who have been long time advocates of minimally invasive gynaecology, and who have proven to spread the use of minimally invasive surgery though teaching and mentoring.
Professor Adamyan, who has been an AAGL member since 1989, founded the Russian Society of Gynaecologic Endoscopists (RSGE) in 1991 which, through her leadership, has grown to encompass more than 2,000 members.  During these past twenty years she has mentored colleagues and organised major educational meetings attracting not only Russian surgeons but renowned surgeons from around the world – all there to learn from each other.
In bestowing Professor Adamyan with this Honorary Membership the AAGL acknowledges that she has been responsible for raising the level of care for women – not only in Russia, but in neighbouring countries and thus have exemplified the AAGL's mission of advancing minimally invasive gynaecology worldwide.
» Follow us on Twitter to keep up to date with all news in endometriosis