Quality of life, mental health, and wellbeing in those living with endometriosis
The University of Strathclyde is conducting a project within the UK and Ireland to assess the impact of endometriosis on quality of life, and the factors which contribute to the wellbeing of individuals living with the condition.
The goal is to ascertain the factors which, alongside pain, contribute to quality of life amongst individuals living with endometriosis.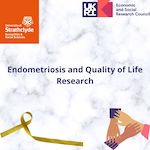 To address this goal, the researchers will be measuring endometriosis specific factors such as healthcare experience, illness perceptions, and coping responses to assess if and how these factors contribute to the quality of life and wellbeing of those living with the condition.
It is hoped that this research will contribute to future endometriosis-specific mental health resources and interventions to be utilised alongside medical treatment.
Background to the study
Decreased life satisfaction and high rates of depression and anxiety are frequently reported within the endometriosis community, and these detriments in wellbeing affect the quality of life (QoL) of those living with the condition.
Pain appears to be the primary driver of lowered QoL; however current surgical options are often ineffective against endometriosis-related pain, with at least 50% experiencing a recurrence of endometriosis after surgery.
Whilst a cure or effective ways to manage endometriosis-related pain are sought, it is imperative that the mental health of those living with the condition is prioritised. Reportedly, only 10% of individuals living with endometriosis feel they have enough support to cope with their condition.
However, there is a lack of psychological support for those with endometriosis, and particularly lacking is support which considers the unique and multifaceted experience of living with the condition. To create endometriosis-specific interventions, research examining the factors which contribute to reduced QoL is pivotal.
Therefore, using a two-phase survey, this research aims to investigate which factors impact on the wellbeing and QoL of those living with endometriosis. The online survey will ask participants for a range of information about their endometriosis diagnosis, as well as factors such as their coping style, wellbeing, and perceptions of their condition.
Twelve months after completion of the first survey, an identical survey will be sent to participants to measure any changes over time. Participants will also be asked if they would be interested in attending an interview to share their endometriosis-related experiences.
Who can participate?
Anyone aged over the age of 18 and currently residing in the UK or Ireland with a previous diagnosis of endometriosis is eligible to participate in this survey.
How to participate?
Click here to participate in the survey. The survey takes approximately 20 minutes, and will be available until 31 May 2022.


See also