Post-traumatic stress, anxiety, and depression following endometriosis diagnosis
Researchers in Australia and Canada are conducting an international (worldwide) study to assess whether there are differences between the responses of the intensity of PTSD, depression, and/or anxiety symptoms in those with the predominant symptom(s) of pain, infertility, or both pain and infertility.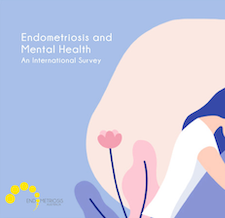 Their goal is to create awareness among clinicians about early, specific, screening and onset of treatment of potential mental health disorders in those with endometriosis.
To do so, these researchers are trying to find out whether there is a relevant presence of symptoms of PTSD, depression, and/or anxiety in these people's responses, and whether it is possible to notice differences in these symptoms between those who have different predominant symptoms.
Anyone, regardless of where they live in the world, can participate in this study (see below).
Background to the study
Those with endometriosis may present with mental health issues related to their mood – like depression and/or anxiety – in a higher proportion than those without endometriosis.
These disorders may be due to the endometriosis-related chronic symptoms, such as pain or infertility (or both), as well as the often significant diagnostic delay, which may enhance the enduring agony and uncertainty of an individual.
Just as with other medical conditions related to chronic pelvic pain (CPP), endometriosis causes significant morbidity and those affected are often submitted to multiple surgeries and other "hit and miss" treatments. Considering the overall burden that endometriosis imposes to those affected, the assessment of endometriosis-associated psychological distress is an essential factor in both initial evaluation and treatment planning.
Who can participate?
Anyone over 18 years old with a previous diagnosis of endometriosis is able to participate in this survey. You can participate no matter where in the world you currently live.
How to participate?
CLICK HERE for access to the survey, which will be available until 15 July 2021. The survey takes approximately 20 minutes.

See also